"Life is beautiful. Really, it is. Full of beauty and illusions. Life is great.
Without it, you'd be dead."
¿Es acaso una película o un documental de gente bizarra? ¿Cuál es el argumento? ¿De qué trata? Todas estas preguntas me hice cuando acabé de ver
Gummo
de
Harmony Korine
estrenada en 1997 y estoy seguro que muchos de Uds. También se las hicieron.
Gummo
si es una película, del sub género documental, y si es rara, además de ser políticamente incorrecta, en donde muestra gente extraña, marginada, sin sueños, sin ilusiones, sin esperanzas, sin valores, sin nada, es la antítesis del sueño americano, es la pesadilla americana, donde muestra otra cara de Estados Unidos, muy distintas a los que los cineastas de
Hollywood
se han esmerado en mostrarnos durante décadas, no hay gente linda, no hay un final feliz, mejor dicho no hay un final, al parecer no hay diálogos, todo parece improvisado, o mejor dicho todo es natural, las crudas escenas que abundan a lo largo de la trama, así como los nada convencionales personajes la convierten en una cinta de culto, en un clásico de los años 90, ¿el motivo? Pues creo yo que recae en la originalidad de la "trama" en mostrar un pueblo sin alma luego de un tornado (en
Xena
, estado de
Ohio
en los
EE.UU.
) en donde el tornado no solo se llevó sus bienes materiales, sino también el alma de los pobladores, otro factor son los variopintos personajes, como el clásico chico conejo (buuny boy) o el enano negro gay, o la chica con síndrome de down que es obligada a prostituirse, o los casa gatos, y demás seres con problemas psicológicos, sociológicos y mentales, y por último el tratar varios temas tabúes como: el abuso de drogas, violencia, homicidio, vandalismo, enfermedades mentales, la pobreza, la blasfemia, homofóbia, violaciones, sexismo, suicidios, sufrimiento, prostitución, crueldad animal, eutanasia y racismo.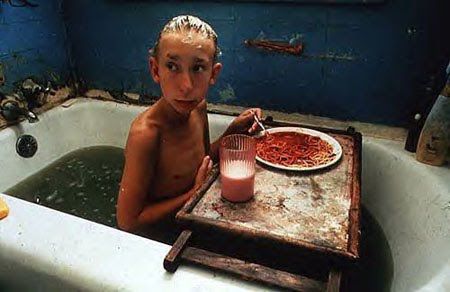 Es cierto esta es una película no apta para todos, ya que no es una película convencional agradable para todos, pero si te atreves a verla, te recomiendo que seas mente abierta, que no estés cargados de prejuicios, y como decimos en mi país, que tengas mucho estómago.